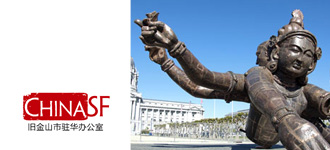 ChinaSF
David Perry & Associates, Inc. is honored to represent ChinaSF (www.chinasf.org) sponsored by The San Francisco Center for Economic Development which works to promote a thriving economic climate for the Bay Area. Under the leadership of Executive Director Ginny Fang, ChinaSF is building bridges and business between and in both San Francisco and China.
China's re-emergence as one of the world's largest and strongest economies provides unprecedented economic opportunities for San Francisco. San Francisco has enjoyed deep cultural and economic ties with China for more than 150 years. The city is well known across China, and because more than 25% of the City's population is of Chinese ancestry, there is no other place in North America where Chinese business men and women will feel more comfortable and welcome. Many San Francisco companies, including our leading legal, financial, architecture, engineering and technology firms, are already doing business in China. But as China's economy continues to mature, more and more Chinese companies will need to establish North American headquarters and business operations—and San Francisco should be their first choice.
Equally important, opportunities in China continue to expand and San Francisco Bay Area companies can benefit greatly by participating in one of, if not the fastest-growing economy in the world. ChinaSF can help facilitate those opportunities.
San Francisco will capitalize on this opportunity by launching ChinaSF, a comprehensive international business development strategy that builds on the City's core strengths for international businesses (a highly desirable urban location, a world-class international airport, a terrific workforce, central access to all of the Bay Area's financial and technology resources) and creates a systematic platform for converting business opportunities in China and San Francisco into tangible results for China and San Francisco's respective economies.
Featured Video Interviews
Corporate Communications
International Media Relations
Special Event Production
Strategic Partnerships