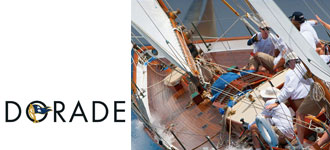 Dorade
David Perry is delighted to represent one of the world's most historic classic sailing yachts: Dorade, now back in her home waters of San Francisco Bay.
Dorade was designed by the legendary Olin Stephens, creator of six out of seven successful America's Cup defenders between 1958 and 1980. Olin and his brother Rod Stephens designed and built Dorade in 1929. In 1931 – at the ages of 20 and 22 — they sailed Dorade in the TransAtlantic Race, winning against a fleet of much larger boats and more experienced crews. That win was followed by an extraordinary series of victories in the Fastnet, Cowles, and Bermuda races. In 1936 San Francisco's Jim Flood purchased Dorade and brought her to San Francisco. Since then, she has changed owners many times, sailing the west coast, Europe, and most recently in Newport, Rhode Island.
In 2010, entrepreneur Matt Brooks and his wife Pam Rorke Levy went to Newport in search of a classic yacht, and were immediately entranced by Dorade's history and pedigree. Rather than keep her as a museum piece, however, the pair decided to do something that many thought was impossible: restore her to full ocean-racing capacity. Since then she has been making friends and winning races, most recently the Leukemia Cup (October 2012) on San Francisco Bay.
Media Relations
Strategic Partnerships
Social Media
Media Training