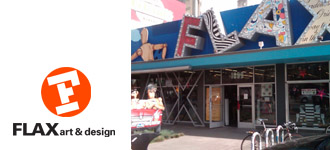 FLAX art & design
David Perry & Associates, Inc. is proud to represent FLAX art & design. Family-owned and operated since 1938, in 2013 FLAX celebrates 75 years as San Francisco's oldest locally-run supplier of quality materials for creative people.
In 1938, Herman Flax opened Flax's Artists' Materials in downtown San Francisco, with $100 to invest in inventory and a used cash register, at first living in back of the shop with his family.
From this humble beginning, FLAX gathered a loyal following of customers, and expanded to its current location, occupying 20,000 square feet at 1699 Market Street (at Valencia). Now operated by Howard Flax, who represents the family's third generation along with his sister Leslie Flax Abel, FLAX art & design celebrates this business landmark with special events and promotions throughout 2013, and a grand birthday bash in August.
Interview with Howard Flax
Public & Media Relations
Video Production
Strategic Partnerships
Government Relations
Special Events