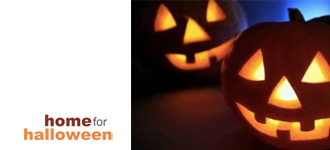 Home for Halloween
What will you be doing in your hometown and home neighborhood on October 31 – Halloween? San Francisco's Home for Halloween campaign is urging people to celebrate the costume-filled holiday close to home in an effort to spur their local business communities and also remind revelers to keep the holiday safe and sane.
"We just want to be clear that there will not be a street closure nor a Bay-Area event in San Francisco's Castro District," said David Perry, who conceptualized the campaign on behalf of the City & County of San Francisco. "There are many wonderful and safe events happening in San Francisco neighborhoods and throughout the Bay Area. So, once again, we're encouraging people to celebrate Halloween in their own home neighborhoods and cities. The Castro, while open for business, will not be closed for a street party."
The multi-layered Home for Halloween campaign was launched in 2007 years ago to discourage individuals who live outside of the San Francisco from coming into the Castro neighborhood on October 31 and overwhelming the mostly residential neighborhood and its smattering of small businesses and bars. In addition, the campaign has proved a catalyst for other San Francisco neighborhoods to sponsor activities outside of the Castro. The "Home for Halloween" website includes be a broad list of public activities taking place all around the Bay Area on Halloween evening plus comprehensive transportation and public safety information.
Crisis Communications
Government Relations
Public Relations
Web Design
Social Media