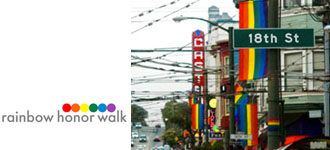 Rainbow Honor Walk
David Perry is co-founder and co-chair for the nonprofit Rainbow Honor Walk which is planning a landmark memorial to heroes and heroines of the LGBT community for installation in the sidewalks of San Francisco's iconic Castro district. The idea for the project had a dual genesis. In 1994, Perry suggested the idea and received media attention and the support of the San Francisco Board of Supervisors. However, the overwhelming priorities of the AIDS/HIV pandemic put the project, and its fundraising goals, on hiatus. In 2009, Lindenauer, unaware of the earlier effort, envisioned the Rainbow Honor Walk. Lindenauer and Perry joined forces, put together a volunteer committee of community leaders and received the unanimous support of the San Francisco Board of Supervisors.
Eventually, the Walk will stretch from the Harvey Milk Civil Rights Academy on 19th Street at Diamond down to Castro. On Castro Street — the LGBT community's "Main Street" – the walk will continue up to Market Street with additional wings along 18th Street. On Market Street, San Francisco's main thoroughfare, the Walk will continue to the LGBT Center at Octavia Boulevard.
David Perry & Associates, Inc. is proud to provide pro bono public relations and promotional support for the effort.
David Perry talks about the Rainbow Honor Walk
Branding & Identity Development
Public Relations
Publicity
Social Media