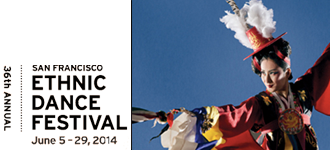 San Francisco Ethnic Dance Festival
World Arts West / SF Ethnic Dance Festival
For almost four decades, World Arts West has played a crucial role in California's cultural ecology. David Perry & Associates, Inc. is proud to represent this unique institution and represent this year's 36th annual San Francisco Ethnic Dance Festival (June 5 – 29, 2014).
Every great city has important museums, operas and orchestras, but few of the world's great cities have a World Arts West. It is hard to imagine San Francisco without it. The San Francisco Ethnic Dance Festival encapsulates who we are better than any other event in the Bay Area. Our greatness lies in our diversity. And nowhere is our diversity better embodied than in the Bay Area's rich and varied dance traditions. The thousands of artists we work with are the heart and soul of the San Francisco Bay Area, and serve as both cultural ambassadors and catalysts for cross-cultural innovation.
Our mission is to support artists sustaining the world's diverse dance traditions by providing needed services and performance opportunities, and provide the general public with opportunities to experience and learn more about world arts and cultures.
World Arts West serves as the hub for over 450 dance companies based in Northern California that are collectively sustaining over 100 dance forms from around the world.
Truly we are a World United Through Dance