10th "Home for Halloween" Campaign Reminds Revelers to Keep It Close to Home on October 31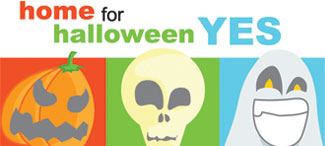 Media Contact: David Perry & Associates, Inc. / news@davidperry.com / (415) 767-1067
10th "Home for Halloween" Campaign Reminds Revelers to
Keep It Close to Home on October 31

28 September 2016 – San Francisco, CA: What will you be doing in your hometown and home neighborhood on Monday, October 31 — Halloween 2016? For the tenth year, San Francisco's Home for Halloween campaign (www.homeforhalloween.com) is urging people to celebrate the costume-filled holiday close to home in an effort to spur their local business communities and also remind revelers to keep the holiday safe and sane.
"Halloween is a fun family tradition, and I encourage all San Franciscans to be safe when they are out celebrating," said San Francisco Mayor Edwin M. Lee. "There are many wonderful and safe events happening in San Francisco neighborhoods and throughout the Bay Area, and we are encouraging people to celebrate Halloween in their local neighborhoods and cities."
"We want to be clear, there will be NO street closure and NO event in San Francisco's Castro District. The Castro, while open for business, will not be closed for a street party," said interim San Francisco Police Chief Toney Chaplin.
The multi-layered Home for Halloween campaign was launched in 2007 to discourage individuals who live outside of San Francisco from coming into the Castro neighborhood on October 31 and overwhelming the mostly residential neighborhood and its smattering of small businesses and bars. In addition, the campaign has proved a catalyst for other San Francisco neighborhoods to sponsor activities outside of the Castro. The Home for Halloween website includes a broad list of activities occurring around the Bay Area on Halloween evening. Comprehensive transportation and public safety information is included.
"Above all, this is a public safety campaign," says Chaplin, noting that over the years, Halloween has sometimes become an excuse for nuisance and even violent behavior. "For those people who would come into the Castro — or any part of the City — with bad intentions and exhibiting bad behavior, the message is very clear: stay home."