$2.1 Million Is Early Valentine for AIDS / HIV Related Charities in San Francisco, Sonoma County, Palm Springs and Philadelphia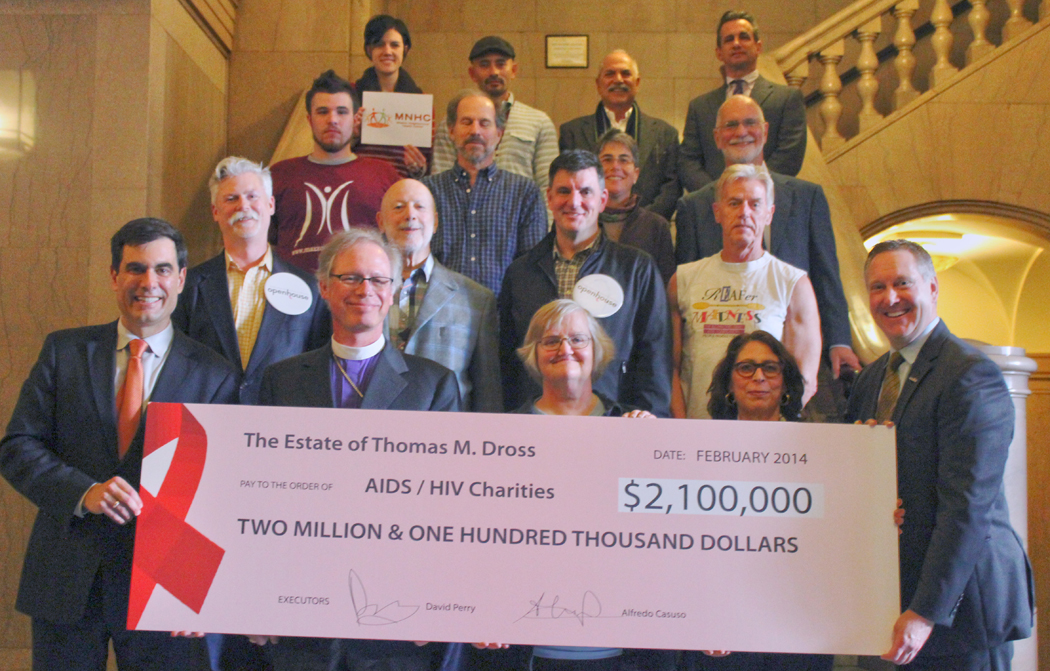 $2.1 Million Is Early Valentine for AIDS / HIV Related Charities in San Francisco, Sonoma County, Palm Springs and Philadelphia
Media Contact: David Perry
415.676.7007
news@davidperry.com
10 February 2014 — San Francisco, CA: In a gathering today at San Francisco's historic Flood Building, $2.1 million dollars from the Thomas M. Dross Estate was officially distributed to the following charities: AIDS Emergency Fund, AIDS Interfaith Chapel at Grace Cathedral, Clinica Esperanza, Desert AIDS Project (Palm Springs), FamilyLink, Food for Thought (Sonoma), Mazzoni LGBT Center (Philadelphia), Openhouse, Richmond/Ermet AIDS Foundation, SF AIDS Foundation, San Francisco LGBT Aging Policy Task Force Outreach Report.
"This is one of the largest private donations to AIDS / HIV charities in the past decade," said Alfredo Casuso and David Perry, coexecutors of the Dross Estate. "AIDS is not over. Our hope is that the size of this donation will refocus people's attention on the work of these fine efforts — and others — in the fight against AIDS / HIV. As we approach Valentine's Day, we want people to remember and show love to their local AIDS service organizations and those living with AIDS / HIV."
Thomas M. Dross died of a heart attack on January 7, 2012 in Palm Springs. His will specified AIDS / HIV charities as the beneficiary of his estate.