The 20th Annual Kaiser Permanente San Francisco International Dragon Boat Festival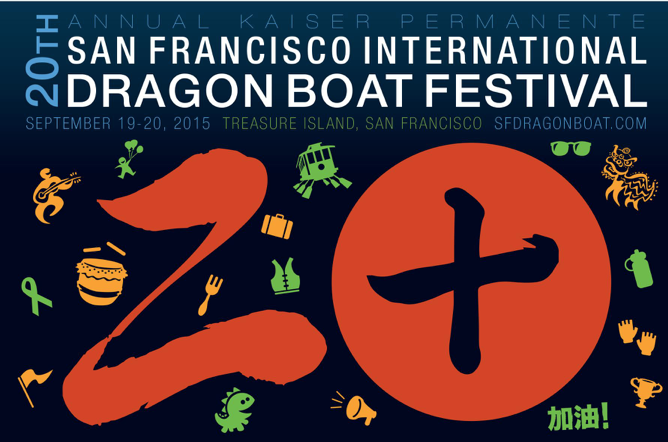 The 20th Annual Kaiser Permanente San Francisco International Dragon Boat Festival
Treasure Island, San Francisco
Saturday & Sunday, September 19 & 20: Racing: 8am – 5pm; Festival: 10am – 5pm

Media Contact: David Perry & Associates, Inc. / (415) 693-0583 / news@davidperry.com
8 September 2015– San Francisco, CA: What a difference two decades make. When the 20th Annual Kaiser Permanente San Francisco International Dragon Boat Festival (www.sfdragonboat.com) paddles its way into the record books on Saturday & Sunday, September 19 & 20 in the waters around San Francisco's Treasure Island in the middle of the Bay, the massive family-friendly festival can safely say: "We made history."
"This event brought dragon boating to a much broader audience," says Linda Cheu, Director of the California Dragon Boat Festival that sponsors the event. "Before this event, only a small group of paddler enthusiasts had ever heard of – much less experienced – what we call the ultimate team sport. Now, we are the largest dragon boat festival in the United States. We'll have over 130 teams competing this September."
Cheu, who has been a key promoter of dragon boating for both of the Festival's landmark decades, points to the sport's accessibility and diversity as a reason for its increasing popularity.
"The Festival includes paddlers that are high school students, seniors, cancer survivors, competitive and former Olympic athletes, and teams from corporations, hospitals, museums, and community groups," says Cheu. "All are attracted to this over 2,000 year old Chinese cultural tradition. The Festival has become one of the largest, free, family friendly events in Northern California. Last year we had around 40,000 attendees and we expect to meet or exceed that this year."
This year's Festival features several an unprecedented number of novice teams, representing a wide range of corporations from Premier Sponsors Lucky Supermarkets and Sutter Health; new tech teams from LinkedIn, Rdio, and Google; in addition to other companies such as Wells Fargo, PG&E, McKesson, and Visa. The Festival includes most of the Bay Area's major healthcare providers, including Kaiser Permanente, the title sponsor, St. Mary's Medical Center and Chinese Hospital, and an array of community serving organizations including schools, labor unions, and other non-profits. There will also be dozens of visiting teams from around the United States and Canada.
San Francisco City officials will help kick-off the event on Saturday including the novice team competition, including the "Golden Serpents," which is comprised of representatives from the Mayor's Office, Board of Supervisors, San Francisco Police Department and ChinaSF, the Mayor's China business initiative. Entrance to the Festival is free and open to the public, as is viewing of the races. The festival provides an exciting array of activities off the water as well, from food trucks to entertainment to children's activities and is a very family friendly event.
"The corporate support is vital," said Cheu, noting that the funds provided by the business community support the Festival's youth program. "It provides a free, high quality, year-round, competitive dragon boating program for nearly 1,000 youth in San Francisco and around the Bay Area, focusing on immigrant youth who do not traditionally participate in mainstream school sports. The high school dragon boat program not only promotes fitness and a healthy lifestyle, but also teaches values of teamwork, leadership, perseverance, and hard work."
Besides the thrill of cheering on a fleet of colorful 40-foot dragon boats as they race to the beat of Chinese drums, the two-day, admission-free festival features family-friendly live entertainment, cultural performers, fabulous food, and fun merchandise. Kids of all ages can enjoy free games with prizes, arts and crafts in the Flax Creative Arts Area, carnival rides, a three-story obstacle course, face painting, airbrush tattoos, animal balloons, roving dragon characters and more at the ever-popular Dragon Land. Parking and admission is free, and complimentary shuttles run both days between the festival and locations in San Francisco.
Cheu notes that dragon boating has continued to grow in popularity throughout the country – and world — citing as evidence the growing number of international competitors.
"The California Dragon Boat Association again expects record attendance in all divisions this year," said Jessica Li, President of the California Dragon Boat Association and also a longtime dragon boat paddler. "It's going to be another great weekend of good, hard racing, excellent entertainment and food, and great times on and off the water!"
In 1996 a handful of paddlers came together with the vision to build an organization to foster the growth and development of dragon boating in the San Francisco Bay Area. Each had little experience in starting up a non-profit organization most were relatively new to the sport themselves. With only commitment and their faith in dragon boating becoming a great activity for the community they moved forward to promote a sport people knew little about in an area already saturated with team sports.
So, what exactly is Dragon Boating?

For those unfamiliar with the sport, dragon boating simply put, is a boat of 20 paddlers, a drummer and a steers person paddling to cross the finish faster than their competition. It's a team sport in its purest form that encompasses the elements of power, speed, synchronization and endurance.
With its beginnings in Southern China, dragon boating today is the fastest growing international team water sport. Each year, race festivals are held around the world in Asia, Australia, Canada, Europe and the United States, one of the largest festivals in the North America is held right here in the San Francisco Bay Area.
The appeal to dragon boating is mainly contributed to the sport's ability to accommodate a wide spectrum of skill levels ranging from novice to competitive, Chen explains. At the novice and recreational level, teams often form as a means of social outlet, team building and an alternative means of exercise. For the spectator, the true display of the sport's intensity and skill is witnessed in the competitive ranks.
Dragon boat racing is one of the earliest known forms of aquatic competition and is celebrated at festivals and races throughout the world. This mythical celebration is a symbol of Chinese culture and spirit and is one of the three largest festivals in that country, with its roots going back over 2,000 years.
Legend has it that Qu Yuan, a scholar and advisor to the emperor of the Chu Kingdom, jumped into the Mei Lo (Mi Luo) River in despair and protest against government corruption. Local fishermen raced out in their boats to save him. They beat drums and pounded their paddles on the river's waters and threw rice dumplings wrapped in silk into the river to distract the water dragons and keep them from eating from Qu Yuan's body. Dragon boating evolved from the re-enactment of this legend at annual festivals.
After two decades, the California Dragon Boat Association is now the largest dragon boating organization in the Bay Area and organizes one of the largest competitive dragon boat festivals in the United States. In addition, the Association oversees the largest high school and college dragon boat program in the nation.
"No one who has discovered dragon boating – either on the water or as an on land volunteer leaves unchanged," says Li. "We are proud of the role we have played in growing the number of people who are able to experience the magic team and community building aspects of this ancient sport." [widgetkit id=24]