The 30th Anniversary Celebration of Nicholas Snow's Historic Public Access Television Show Tinseltown's Queer: Activism Hollywood Style
Media contact: David Perry / (415) 676-7007 / news@davidperry.com
Friday, April 28 Be Part of LGBTQ+ History
at the Palm Springs Cultural Center
www.PSCulturalCenter.org
The 30th Anniversary Celebration of Nicholas Snow's Historic Public Access Television Show Tinseltown's Queer: Activism Hollywood Style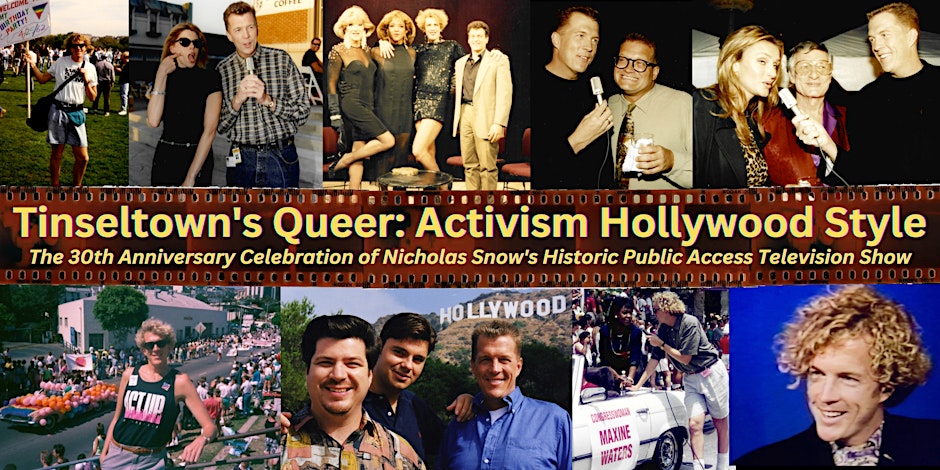 13 March 2023 – Palm Springs, CA: Long before Will & Grace, Brokeback Mountain, Queer Eye or RuPaul, there was Nicholas Snow and Tinseltown's Queer. On Friday, April 28 (7pm 'til 9pm) at the Palm Springs Cultural Center Friday, be part of Queer media history as we commemorate the 30th Anniversary of Nicholas Snow's ground-breaking public access television show, Tinseltown's Queer. The celebratory evening of iconic archival television clips features some of Hollywood's biggest stars, as well as champions of the LGBTQ+ civil rights movement. 
Tinseltown's Queer, Snow's brainchild combining media savvy and queer activism, reached up to 600,000 households on a regular basis on four different cable systems in the Los Angeles metropolitan area throughout most of the 1990s.  
"The editorial mission of Tinseltown's Queer," explains Snow, "was to examine the relationship between the entertainment industry and the LGBTQ+ civil rights movement, thereby positively impacting the movement itself. I've been a multimedia entertainment activist ever since. It's been my life's work."
Snow, most known now as the creator, producer, and host of PromoHomo.TV©, an online television network streamed across multiple social media platforms, will showcase clips from the last two decades as well, to offer a retrospective spanning thirty of the forty years since he came out as a gay man at the age of 21.
The April 28th evening, to be emceed by popular KGAY Radio DJ John Taylor,
will feature iconic archival interviews with not only some of Hollywood's biggest stars but also giants in the LGBTQ+ Civil Rights Movement.
Some of Snow's guests included LGBTQ+ icons Quentin Crisp, Robin Tyler, Melissa Etheridge, Armistead Maupin, Patricia Nell Warren and Morris Kight, and celebs Drew Carey, Christine Baranski, Cristina Applegate, Katey Sagal, Hugh Hefner and many more. The first episode of Tinseltown's Queer was taped April 28, 1993, three days after a March on Washington.
"Tinseltown's Queer is a solid piece of LGBTQ+ history, and also a chronicle of what was happening in LA and on the West Coast at the time," said Michael C. Green, Executive Director of the Palm Springs Cultural Center. "So often when people think about LGBTQ+ history, it's about things that happened in New York and Washington DC. I think it's critical to expand that universe. That's why I find this program so important. And that's why the Cultural Center is so proud to be a part of it."
Snow will screen this night what he describes as "the pilot for the consummate documentary" with the goal of inspiring others realize the historic value of this footage so they will support the process of digitizing and preserving the archives by becoming PromoHomo.TV® Superstars.
PromoHomo.TV® Superstars support Snow's activism by voluntarily subscribing on the Patreon platform for as little as $1/month. Most subscribers participate at $10/month. Those who subscribe at $100/month receive an Associate Producer credit. All subscribers will have exclusive online streaming access to the 30-year retrospective video May 1st, 2023. Choose your subscription level at www.Patreon.com/PromoHomoTV.

To be spotlighted before the screening are longtime supporters of Snow's media activism including DAP Health, EIGHT4NINE Restaurant & Lounge, The LGBTQ Community Center of the Desert, Palm Springs Pride, KGAY 106.5 Palm Springs / GayDesertGuide.LGBT, Pink Media, #ILoveGay Campaign, David Perry and Associates, Inc. and The Palm Springs Cultural Center.
No host dinner options in the Camelot Theatre Café will be available from 4pm. A no-host cocktail hour will begin at 6pm prior to the screening at 7pm. Tickets are $12 and may be purchased online at www.PSCulturalCenter.org or by direct link at https://www.eventbrite.com/e/tinseltowns-queer-activism-hollywood-style-tickets-568761058637