The 75th Anniversary of Saving the Cable Cars
Media Contact: DP&A, Inc. / David Perry (415) 676-7007 / news@davidperry.com
MEDIA ADVISORY / REQUEST FOR ONSITE COVERAGE: WEDNESDAY, OCTOBER 26 – 11AM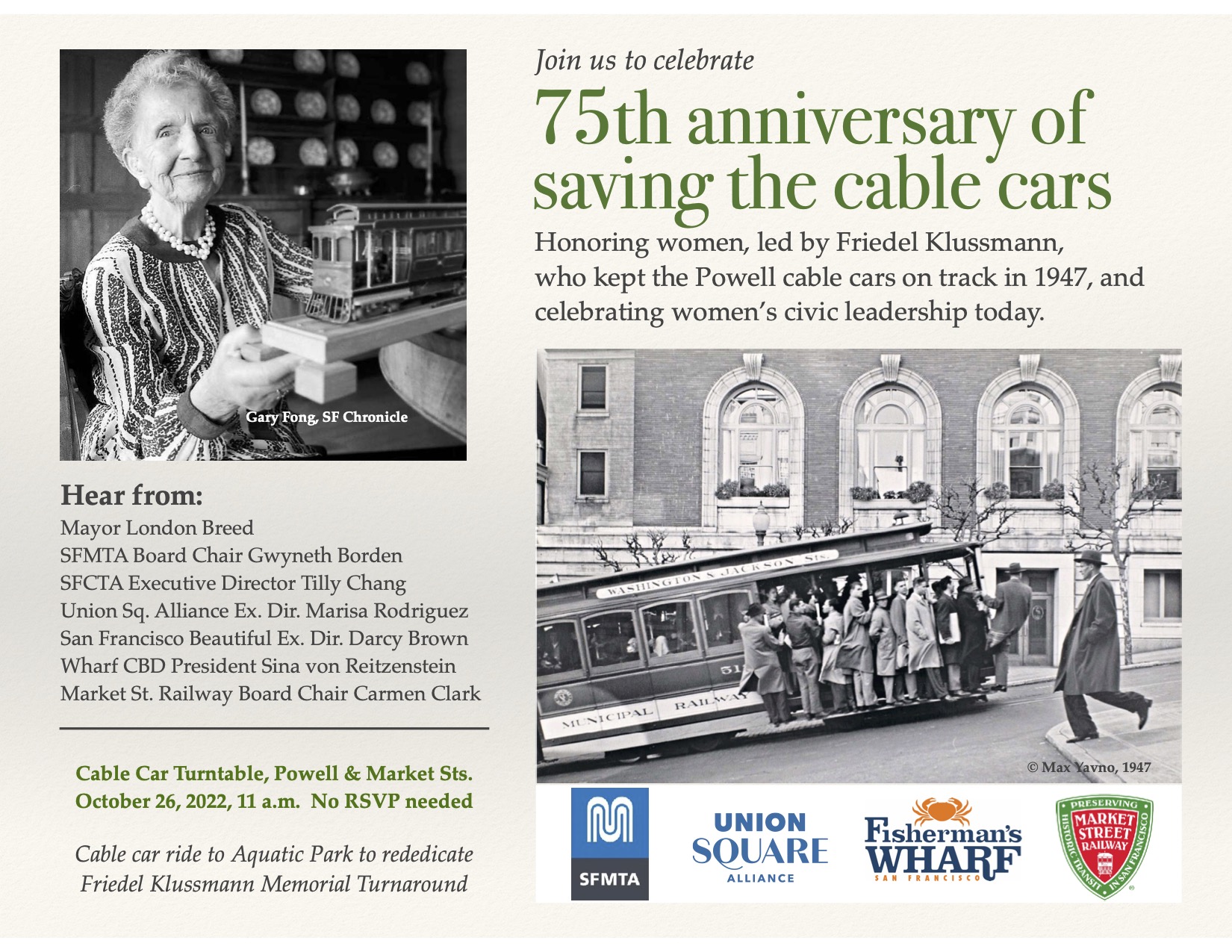 WHO:
Market Street Railway in partnership with
the Union Square Alliance, Fisherman's Wharf CBD,
and San Francisco Beautiful present
"Empowering Women who Empowered San Francisco,"
The 75th Anniversary of Saving the Cable Cars.
WHAT:
The 75th Anniversary of Saving the Cable Cars
WHEN / WHERE:
Wednesday, October 26: 11am – 1pm 
11am: Remarks at Powell & Market Cable Car Turnaround and display of newly restored 1947 Muni bus that was supposed to replace the Powell cable cars
Speakers:
Emcee, Marisa Rodriguez, Union Square Alliance
Mayor London N. Breed
Gwyneth Borden, SFMTA
Tilly Chang, SFCTA

11:25am: Cable Car Ride to Friedel Klussmann Memorial Turnaround in Aquatic Park
11:50am: Remarks, Rededication of the Klussmann turnaround, and official launching of San Francisco's newest Cable Car # 8. Speakers:
Emcee: Carmen Clark, Market Street Railway
Darcy Brown, San Francisco Beautiful
Sina von Reitzenstein, Fisherman's Wharf CBD
Melita Issa, Ghirardelli Square
WEB:
WHY:
Friedel Klussmann was a pioneering civic activist, a woman taking on a male-dominated government and business community to save what we now understand to be our most precious civic asset, the SF Cable Car. In 1947, Klussmann led the way in establishing the cable cars as the rumbling heart of San Francisco. Years later, this resulted in her founding of the esteemed San Francisco nonprofit San Francisco Beautiful.

Klussmann's campaign took off, gaining international publicity and swelling support for the Cable Cars, now the first National Historic Monument that moves and carries passengers. The measure they got on the November 1947 ballot to save the Powell cables passed better than 3-1, a stunning result. The momentum from this led to the City buying the California and Hyde lines when the private company that owned them went broke in 1951. By 1957, the system was consolidated into what we enjoy today. Just a few years after her campaign, the iconic ballad "I Left My Heart in San Francisco" was written that talked of "little Cable Cars that climb halfway to the stars."

In recent years, SFMTA has significantly improved the appearance and maintenance of the Cable Car fleet and machinery. Cable Car 8 (behind Cable Car 1 in the setup) is their latest triumph, rebuilt from the frame up and painted in Muni's 1947 cable car colors. Had Friedel Klussmann's campaign not succeeded, Union Square and Fisherman's Wharf would likely not be the vital areas they are today. The Cable Cars continue to play a critical role in connecting key destinations in San Francisco, for All to enjoy.

Today's event serves to remind San Franciscans of the importance of continuing to make excellent operation and maintenance of this priceless civic asset a top priority. On the same 1947 ballot as the Save the Cable Cars measure was a bond issue to rebuild Muni, which heavy use during World War II had left worn out. That measure passed and created the zero-emission trolley bus network Muni enjoys today, with many other benefits. Voter support for transit funded projects is critical to San Francisco's recovery, starting with renewal of the half-cent transportation sales tax, Prop. L, on the ballot this coming November 8. Please vote "yes" on Prop L.
About Market Street Railway
Market Street Railway is a nonprofit advocate for preserving historic transit in San Francisco. In its 45-year history, it was the driving force behind the return of vintage streetcars to Market Street and their extension to Fisherman's Wharf: the F-line, which is today America's most popular traditional streetcar line. It has helped Muni acquire more than two dozen vintage streetcars, cable cars, and buses for the City's heritage transit fleet and undertaken many collaborative projects with SFMTA, which it serves as nonprofit preservation partner. Named for a series of past transit companies that served generations of San Franciscans, today's Market Street Railway also operates the free San Francisco Railway Museum at 77 Steuart Street, across from the Ferry Building, and offers access to hundreds of stories and thousands of photographs about transit history in San Francisco on its website, www.streetcar.org
About the Union Square Alliance:
The Union Square Alliance serves members and creates a high-quality visitor experience by managing and activating public spaces, attracting new investment, and advocating for the district's future success. Union Square is the vibrant heart of San Francisco and an international destination where visitors come to enjoy exceptional retail experiences, luxury hotels, world-class cultural institutions, and great public spaces found only in the City by the Bay. A lively 27-block community surrounding Union Square Park in the heart of San Francisco makes up the Union Square Alliance. It is bordered on the north by Bush Street, on the east by Kearny Street, on the south by Market Street and on the west Taylor Street. For more information on the Alliance, go to www.visitunionsquaresf.com