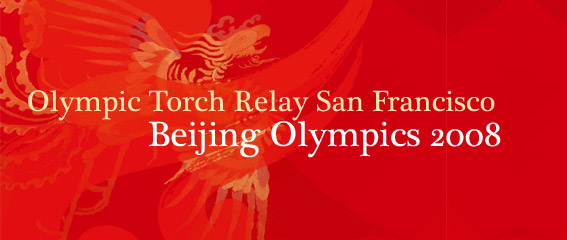 Olympic Torch Relay
David Perry & Associates was praised for its handling of strategic communications during the 2008 Olympic Torch Run during its only stop in the United States, and developed San Francisco's official "Sustainable Journey" campaign for that effort. Continuing its commitment to the Sino-American business communities here and in Asia, DP&A will be in China as part of San Francisco's delegation during the Shanghai Expo 2010, providing strategic introductions, connections and representation on both sides of the Pacific.
…your well-articulated statements on camera were appreciated. Many Olympic officials approached me to congratulate us on the "city spokesperson" who spoke so well to CNN as the exciting events unfolded. So I just wanted to say my own word of thanks for representing with such dignity and confidence the city and our country. The SF torch was generally hailed as a success by the Olympic Movement gathered in Beijing and this was in great part thanks to efforts of yours…
Robert Fasulo
Chief of International Relations for the U.S. Olympic Committee
DP&A handled all accreditation of media (over 600 requests representing some 80 media outlets from around the globe), managed press for the campaign, including the extremely hectic – and successful – day-of media coordination for the relay. We solicited, managed and personally vetted-and-credentialed more than 600 members of the international press corps and provided personal supervision of all media-sites along the Relay route. In addition, working closely with Mayoral senior staff member Martha Cohen , David Perry was part of high-level meetings at every stage of the Relay's planning, including meetings with representatives from the Office of Homeland Security, FBI, Secret Service, the Consulate of China and the Chinese Ambassadors Office. In addition, DP&A coordinated all communications/PR requests from the Relay's corporate sponsors: Samsung, Lenova and Coca Cola in addition to facilitating and managing relationships with the Beijing Organizing Committee for the Olympic Games, the United States Olympic Committee and the International Olympic Committee.
The running of the Olympic Torch through our City on April 9, 2008 will live in San Francisco history as one of the most memorable live-TV experiences in many years. David Perry was interviewed by more than two dozen media outlets, including foreign news and a one-on-one live interviews on CNN's "The Situation Room" and various national/international TV / Radio outlets.