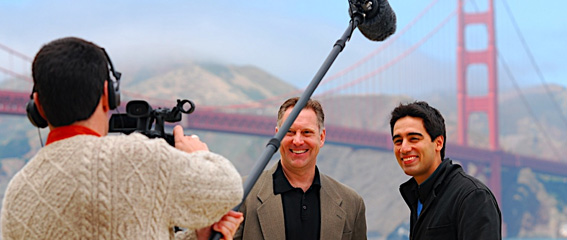 Escape to the City
Client
San Francisco Travel (formerly the SF Convention & Visitors Bureau)
Target
San Francisco residents and media with a secondary target being national / international media who cover tourism and hospitality issues.
Goal
During the worst recession to hit San Francisco and the nation since the Great Depression, the "Escape to the City" campaign was designed to increase local in-city and Northern California tourism and hospitality spending at San Francisco attractions: restaurants, hotels, bars, events and destinations.
Work
David Perry & Associates, Inc. conceptualised, created, produced and distributed the "Escape to the City" Campaign: an entirely digital / online campaign driven by Facebook, Twitter and YouTube. Every Tuesday for six weeks, DP&A's team of videographers identified and visited iconic San Francisco lunch spots: ie, "where the locals eat." Once set up, local San Franciscans were asked "what is your favorite only in San Francisco experience." These answers were videotaped and distributed via social media, with the most popular video over the six-week period winning an all-expenses paid vacation in San Francisco.
Outcome
The campaign received wide media attention both within and outside of San Francisco, and attracted hundreds of additional "followers" to the social media assets for San Francisco Travel. Additionally, the video compilation was so popular that it was highlighted at San Francisco Travel's annual convention and chosen to be San Francisco's official video representation at the Shanghai 2010 World Expo.
[widgetkit id=5]
Best of Escape to the City