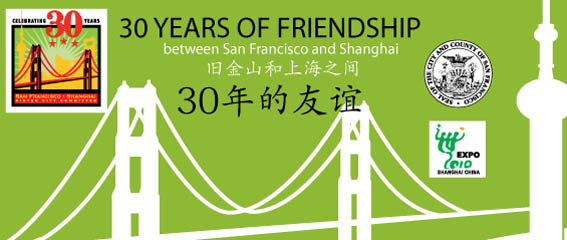 Shanghai 2010 World Expo
San Francisco Week at the Shanghai World Expo 2010
Client
Shanghai / San Francisco Sister City Committee / 2010 Shanghai World Expo
Target
International media, government officials and Shanghai World Expo attendees, specifically in China and the United States.
Goal
To promote and obtain international media attention positioning San Francisco as a business and tourist destination, specifically to a Chinese audience, and to commemorate the 30th Anniversary of the landmark Shanghai / San Francisco Sister City Committee.
Work
David Perry & Associates, Inc. designed and created the graphic and online identity for "San Francisco Week" at the 2010 Shanghai World Expo. San Francisco was the only city to received "Official Participant Status" at the Shanghai World Expo, putting its onsite presentation on par with national presentations and pavilions.
The graphics, web presence and video created by DP&A were seen by thousands of visitors to Expo, and millions more through international TV, print and online media. In addition, David Perry served as spokesperson for the Shanghai / San Francisco Sister Committee, and coordinated all media and public relations for the VIP delegation.
Led by then San Francisco Mayor Gavin Newsom, the City's official Delegation to the World Expo included former Mayors Frank Jordan and Willie L. Brown, Jr. – the first time that three such urban executives joined together on such a trip. Other high level Bay Area representatives included California Supreme Court Justice Ming Chin, Marvell CEO Welii Dei, whose company was the presenting sponsor of the trip, San Francisco Assessor Phil Ting, attorney Joe Cotchett, PG&E's Vice President of Corporate Environmental Affairs Steve Kline, ChinaSF Director Ginny Fang, United Airline's West Coast Operations Director Joe Keenan, San Francisco Convention & Visitors Bureau CEO Joe D'Alessandro and San Francisco Port Chair Rodney Fong.
Outcome
"San Francisco Week" and the 30th Anniversary Shanghai / San Francisco Sister City Delegation received international media attention: hundreds of articles, online stories and TV / Radio coverage in multiple language, all positive.
In addition, David Perry & Associates, Inc. was honored for its contributions by Shanghai's Vice Mayor in a gala ceremony at the culmination of the delegation. Because of DP&A's efforts, the company was also invited to join the board of ChinaSF, a public private partnership working with the San Francisco Mayor's Office to grow business between San Francisco and China.
[widgetkit id=7]