'Broadway for Sandy': A Holiday Concert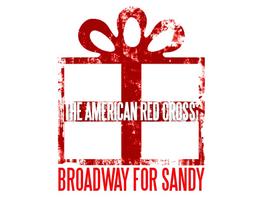 'Broadway for Sandy': A Holiday Concert
Media Contact: David Perry
415.676.7007
news@davidperry.com
WHAT: 'Broadway for Sandy': A Holiday Concert
BRAVO TV personalities in San Francisco benefit
WHEN: Monday, December, 10: 8pm
WHERE: The Elbo Room (647 Valencia Street, San Francisco)
DETAILS:
Alissa Simmons, Marcus Lovingood and Hermione Way from BRAVO's 'Start-Ups: Silicon Valley' hope to raise $50,000.00 for Hurricane Sandy Victims by hosting a Broadway Benefit Concert in San Francisco. This exclusive, 100-seat only holiday concert event will be performed at the Elbo Room in San Francisco and bring together Top Broadway Stars and Technology heavyweights to ring in the season and raise money to help Sandy recovery. Proceeds raised will go toward the American Red Cross and Occupy Sandy disaster programs specifically allocated for Hurricane Sandy Relief. Broadway headliners will perform classic and contemporary Holiday tunes to a live orchestra with a catered fundraising reception to kick off the evening and a star studded VIP after party. Music Directed by: Jesse Vargas.
BROADWAY PERFORMERS:
Kate Rockwell – Currently the lead in Bring it On, Legally Blonde, Grease, NBC's – You're the One That I Want
Darius De Haas –Children of Eden, Dreamgirls
Nick Blaemire — Godspell, Glory Days
Pip – Star of the second season of The Voice on Team Adam Levine
Nathan Parrett – Star of the second season of The Voice on Team Adam Levine
Foster Miller – Rocky Horror, Girl From Hell: The Musical

Futureleap Media:
Marcus Lovingood's online Production and Distribution Company will use the powers of social media to virally distribute the live album and documentary series about the making-of 'Broadway For Sandy' to be released on Facebook before Christmas. Producer Marcus Lovingood hopes to raise an exceedingly large amount of donations from record sales and merchandising, using the powers of viral video and Facebook fanbase building to raise money for Americans in need, as reflected in his successful social media campaigns for President Obama in the 2012 Presidential race.